---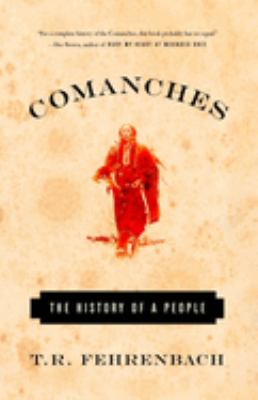 Book
Comanches : the history of a people
Copies
2 Total copies,
2
Copies are in
,
0
Copies are out
.
"Authoritative and immediate, this is the classic account of the most powerful of the American Indian tribes. T.R. Fehrenbach traces the Comanches? rise to power, from their prehistoric origins to their domination of the high plains for more than a century until their demise in the face of Anglo-American expansion. Master horseback riders who lived in teepees and hunted bison, the Comanches were stunning orators, disciplined warriors, and the finest makers of arrows. They lived by a strict legal code and worshipped within a cosmology of magic. As he portrays the Comanche lifestyle, Fehrenbach re-creates their doomed battle against European encroachment. While they destroyed the Spanish dream of colonizing North America and blocked the French advance into the Southwest, the Comanches ultimately fell before the Texas Rangers and the U.S. Army in the great raids and battles of the mid-nineteenth century. This is a classic American story, vividly and poignantly told." -- from publisher's website.
Title
Comanches : the history of a people
Edition
1st Anchor Books ed.
Published
New York : Anchor Books, 2003.
Publication Desc
xvi, 557, xiv p. : ill. ;